Did you know that you can
use the Zip App to place an online order
with Amazon? It's just a few easy steps! However, there are some unique aspects to Amazon's order management experience from other merchants. Below are detailed but easy-to-follow steps for placing a Zip order with Amazon:
How to use Zip to shop at Amazon:
1. Add your desired items to your cart and proceed to checkout.
2. Tap Pay with Zip and enter your purchase amount to create your Zip virtual card.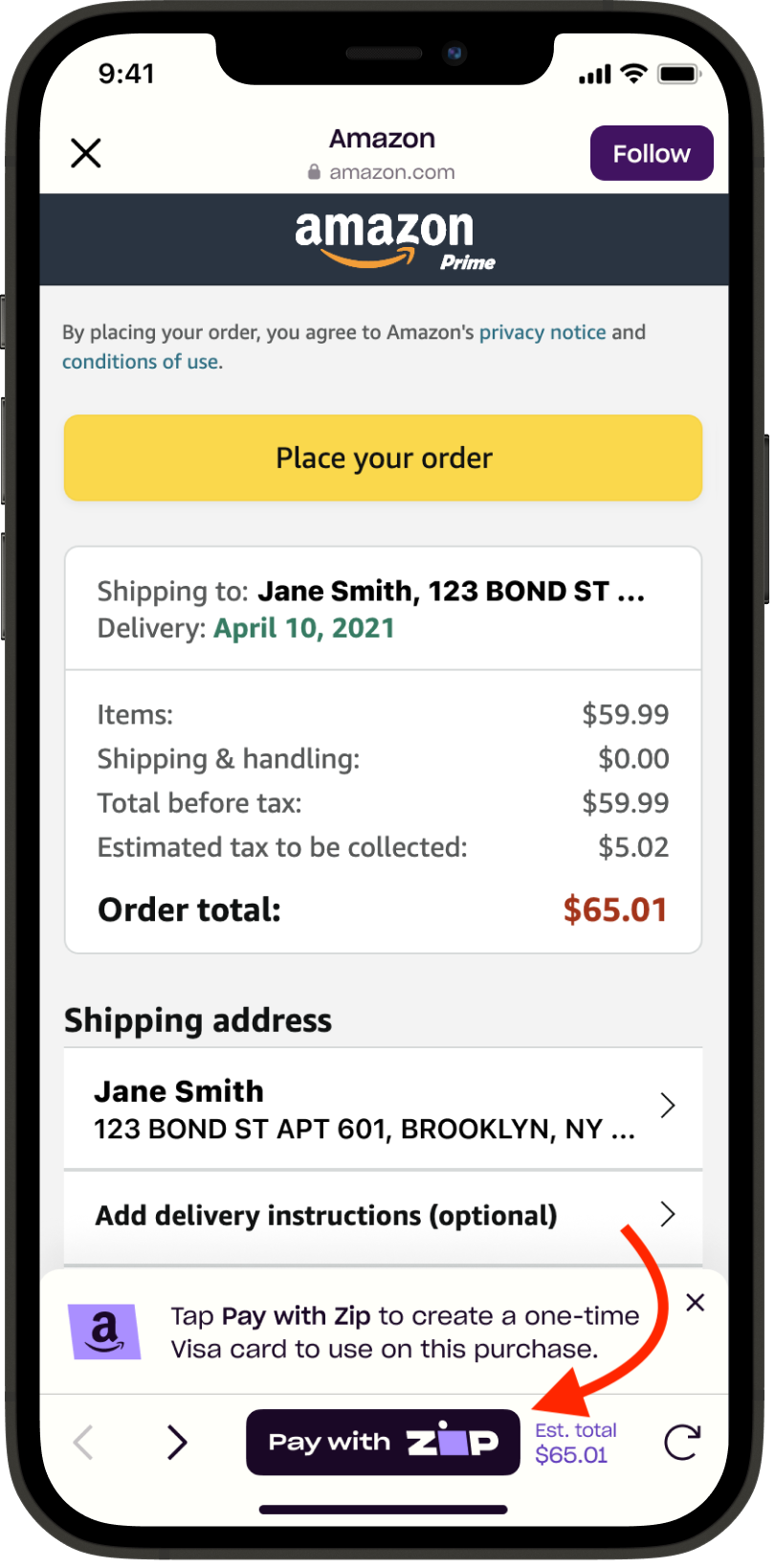 3. Next, tap Payment method.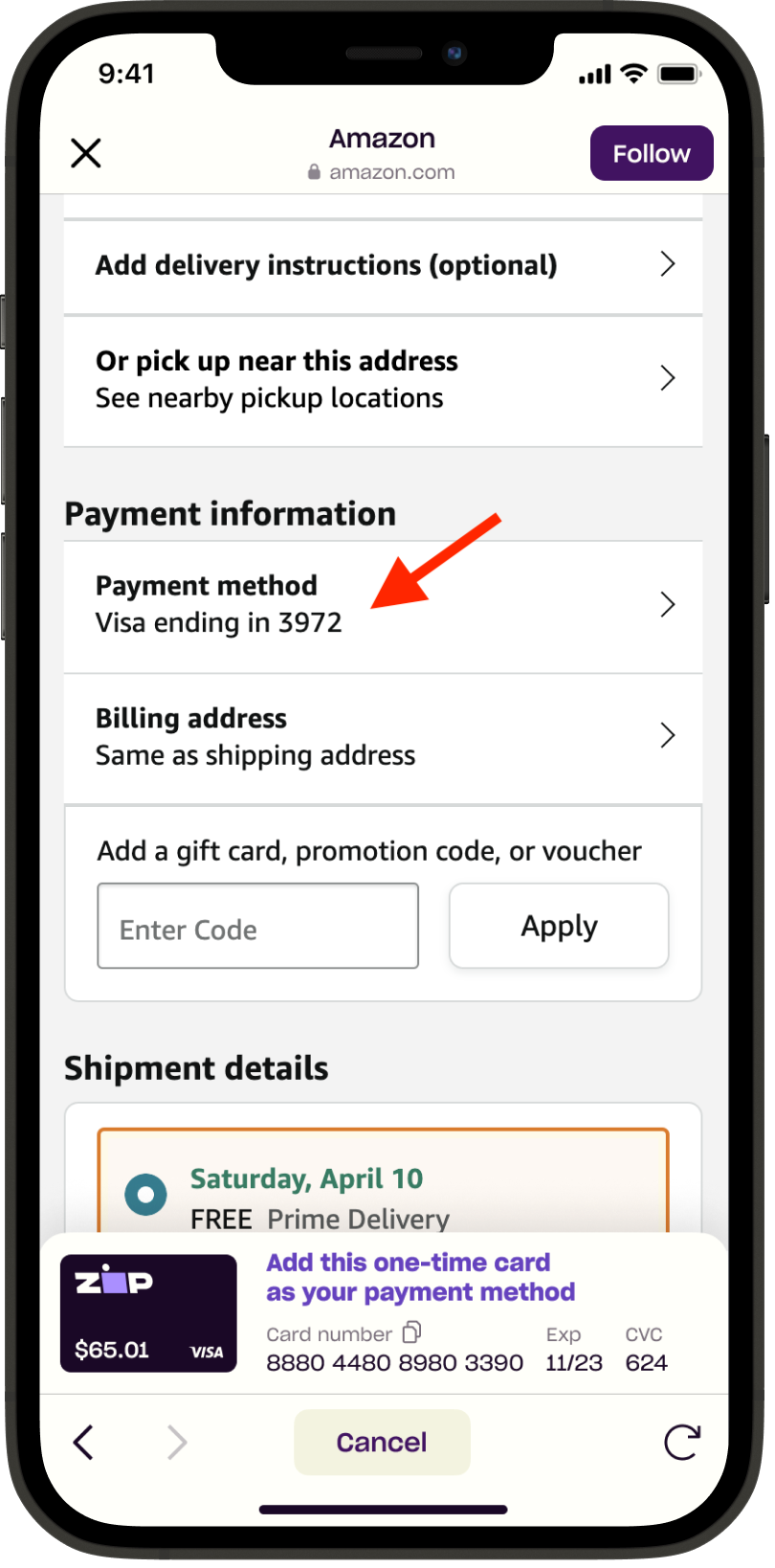 4. Add the Zip card as a payment method to your Amazon account card by selecting Add a Payment Method, and tapping Add a credit or debit card.
Then, at the bottom of your screen, tap Add this one-time card as your payment method.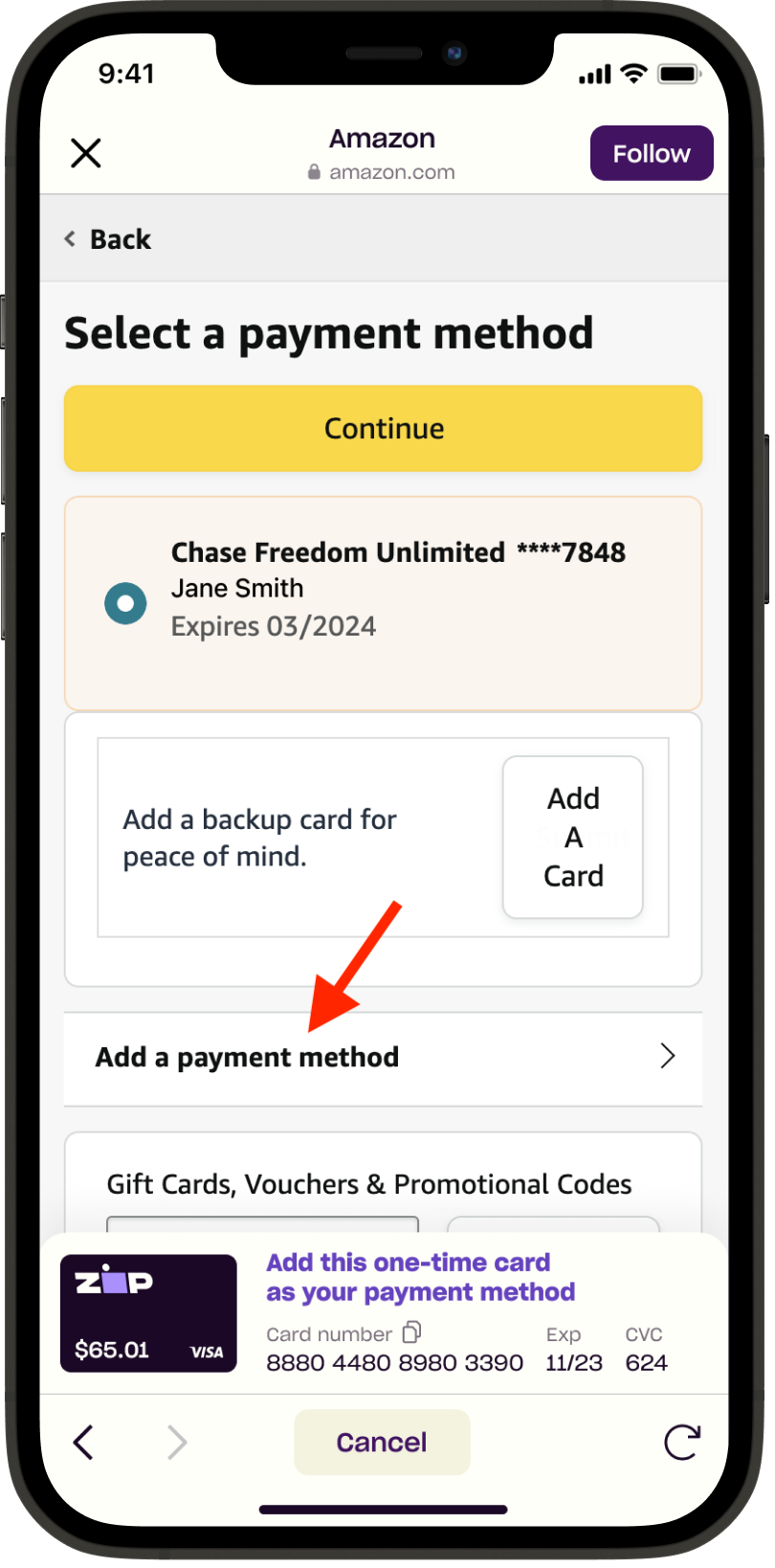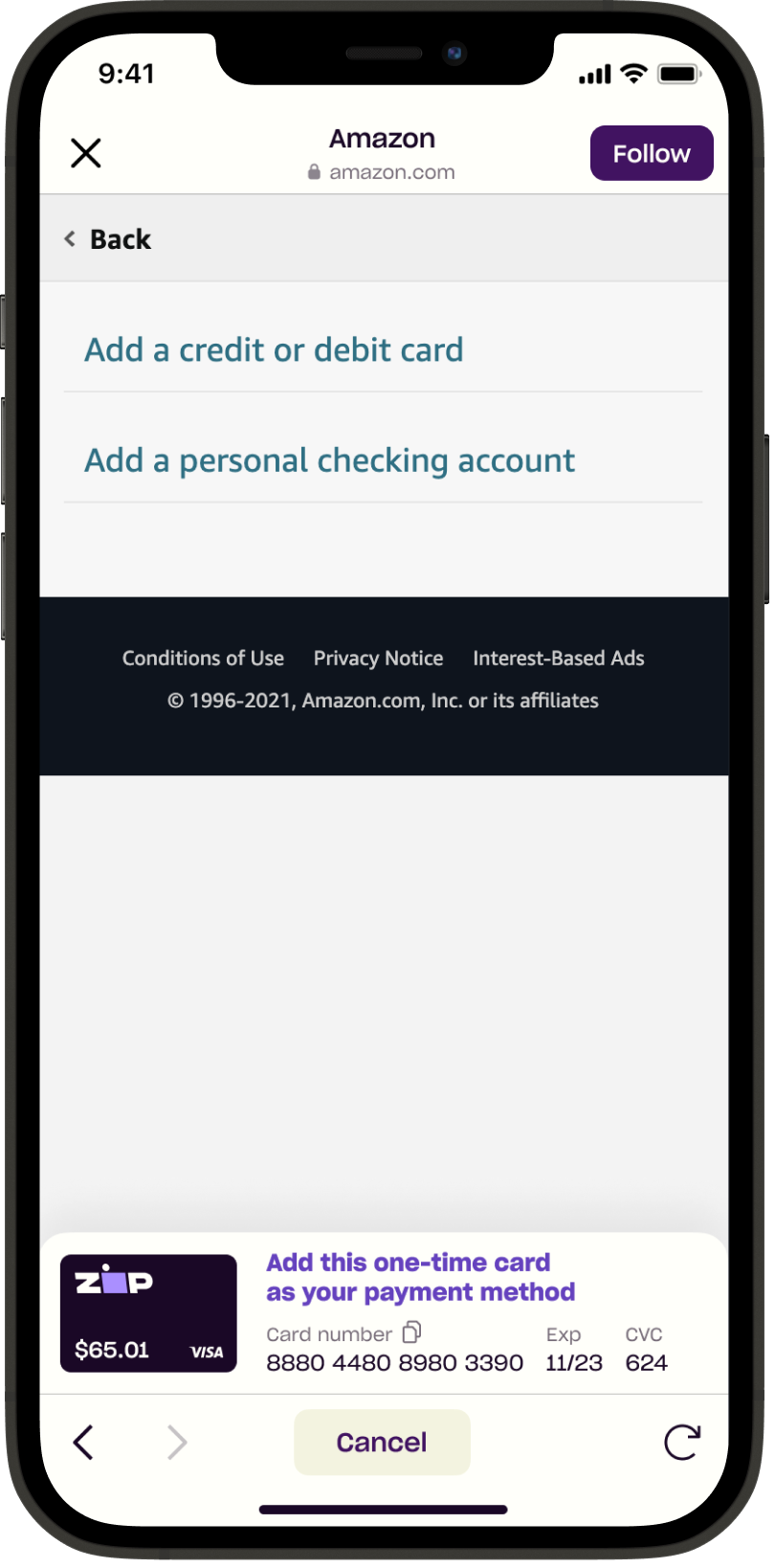 5. On the next screen, be sure to NOT select "set as default payment method", as Zip virtual cards are only for one-time use. If you have already done this for a an Amazon Zip order, make sure to remove the Zip card and change your Amazon account's default card back to your previously set personal card, as future charges to a used Zip card will likely be declined.

After your Zip virtual card information has automatically populated and you've made sure it is not selected to be "set as the default payment method", tap Add your card.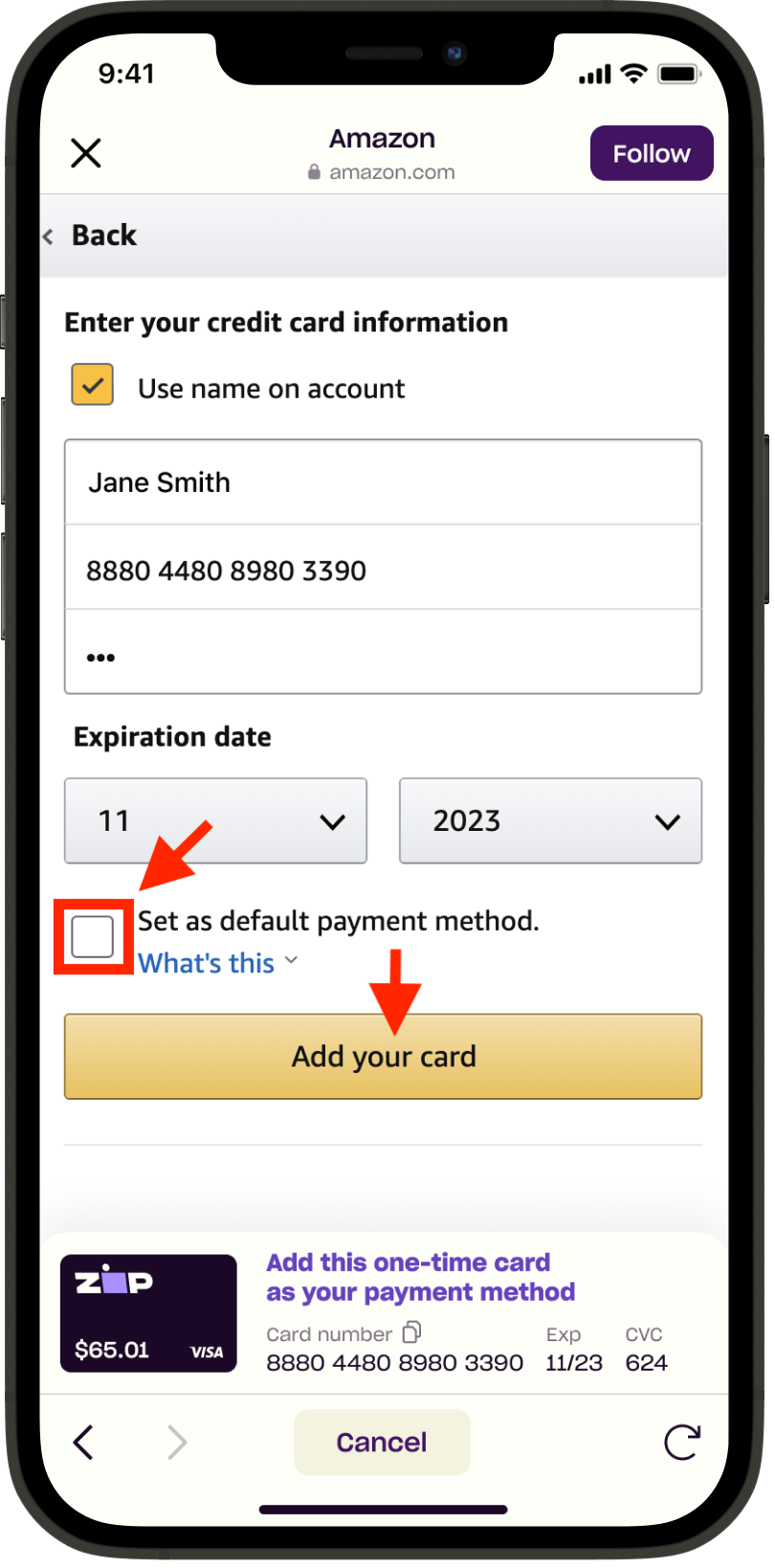 Note: Even if it is not set as the default, it is recommended to always delete Zip cards from your Amazon payment methods after your Zip order has shipped.

Additionally, if your product takes over two weeks to be shipped by the Amazon store, it will likely be declined as Zip virtual cards only have a life of 2 weeks before they automatically expire, and Amazon only charges payment cards upon items being shipped. Please note that during this time the virtual card in your Zip account may appear as an Open Virtual Card or In-Progress Order until the order ships out. If you have an Amazon order that is on backorder or taking a while to ship, be sure to confirm with the store owner that your item(s) will ship within 2 weeks of being placed.

For any issues with Amazon orders, please reach out to Zip Support.