The Report a Return button in the Zip app tells us that you have already returned part (or all) of your order to the merchant. It can take up to 13 days from the date that the merchant has issued your order refund for it to process to your personal card.
Here's how you can report your refund, in 5 easy Steps:
Step 1:
Select the Orders tab in the Zip app, and locate your order either under Open or Past Orders. Then tap on the Order.
Step 2:
Once at the Overview tab, click on the Details tab.
Step 3:
This page includes your Zip Order Number, Purchase Date and Status.
Tap the *Report a Return button at the bottom.
* Please Report a Return at least 24 hours before the installment is due.
Step 4:
If you have yet to initiate your return with the merchant, the following screen will instruct you to return the item and follow the merchant's refund procedures. Once this has been done, this same screen will show the option to Report a Return for your order. This will push your second installment out by two weeks. In the event the merchant does not issue a refund in that timeframe, then your second and third installments will be due on the same day.
Once Zip has received a refund from a merchant, we will automatically issue this refund to you. Make sure to keep your return's shipping ID or tracking number, and wait for official confirmation from the merchant that they have processed your return and issued your refund.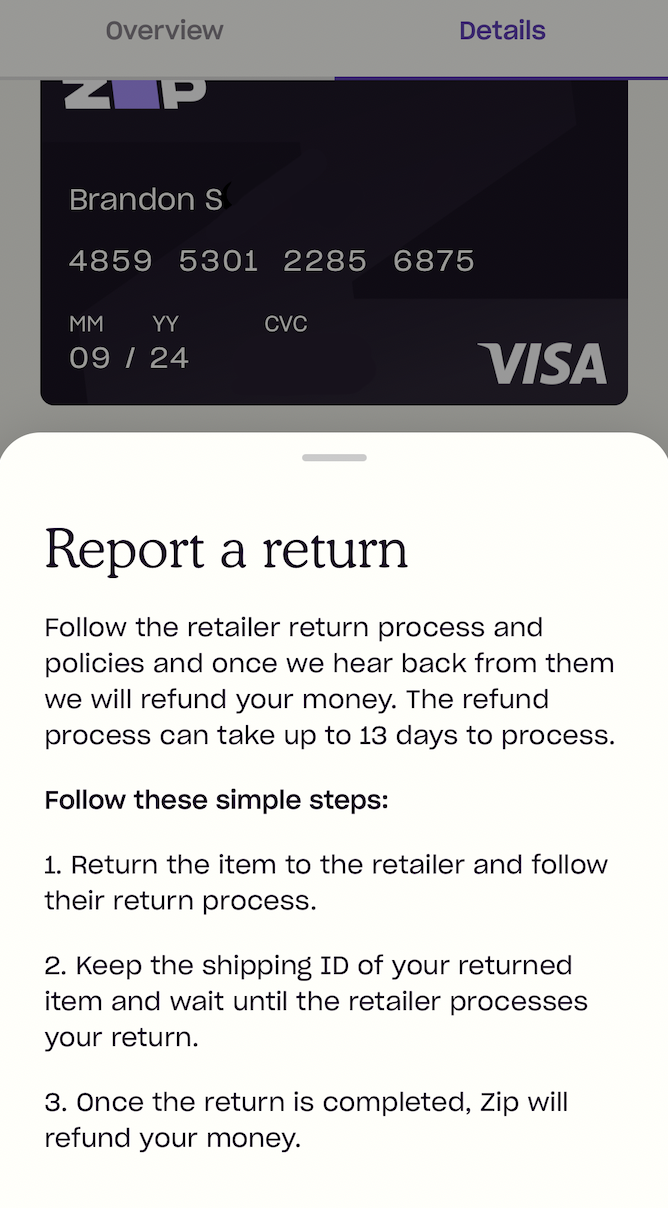 Step 5:
You'll receive a confirmation from Zip once the merchant refund for your return is processed toward your order on our end. If there are any cash refunds for installments you've paid, these will reflect on your personal card statement within 5-10 days.


For more information on how refunds work visit this article. If you're still having issues, you can also contact us here about the status of your refund.
Note: The "Report a Refund" button is only intended for Zip app purchases. Purchases made through Zip Checkout are not eligible. Please make sure to use this process at least 24 hours before your installment is due.